Just like a picture – your tyre wear tells a story. Tyres develop different wear patterns depending on the forces they are subjected to, and the conditions they are most commonly operating in. Uneven tyre wear can compromise the life and performance of your tyres, the handling of your vehicle, and your safety.
Check out our checklist of what to look for when evaluating premature tyre wear. What is your tyre wear pattern trying to tell you?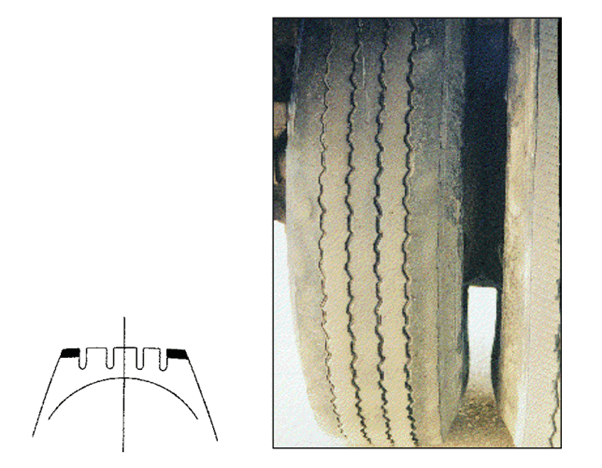 Premature shoulder wear

Here, the shoulders of the tyre will be more worn than the centre due to having excessive contact with the road.
How it happens
Under inflation
Worn steering components
Misalignment
The risks
Under-inflation can lead to tread separation and blowouts. Blowouts can be particularly hazardous as they can cause the driver to lose control of the vehicle and crash, putting other drivers at risk. Improper wheel alignment can result in undue stress on a vehicle's suspension. When driving at high speeds, wheel misalignment can cause difficulty in steering, increasing the risk of an accident. Overall, premature shoulder wear can reduce tyre life by 15% or more and decrease fuel economy caused by making your engine work harder.
What to do about it
For the best handling and fuel efficiency, keep your tyres pumped to the right tyre pressure according to your manufacturer's optimum tyre pressure recommendations. If you notice your truck vibrating for no apparent reason or tend to veer to the side, it may be suffering misalignment. Take it to the shop as soon as possible.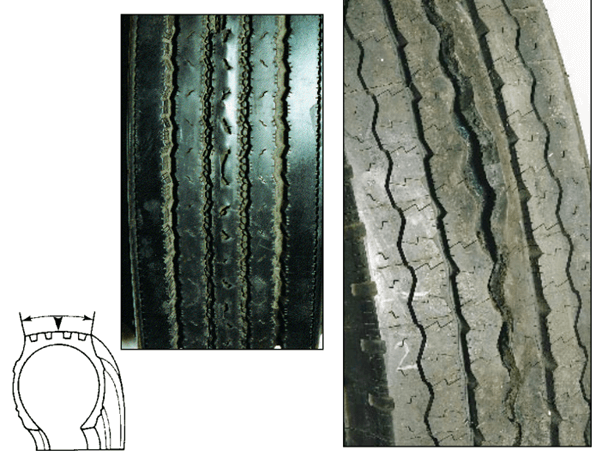 Premature centre wear
Here, the centre of the tyre will be more worn than the shoulders due to having excessive contact with the road.
How it happens
Over-inflation
Tyers too wide for rim
The risks
Over-inflation causes loss of traction which leaves you susceptible to crashing. There's also an increased risk of blowouts due to excessive heat. A rim that is too narrow in relation to the tyre width will allow the tyre to distort excessively sideways under cornering.
What to do about it
Keep your tyres to the recommended inflation pressure specified, according to your manufacturer's optimum tyre pressure recommendations. Also refer to your owner's manual or the sticker in your door jam. Always ensure your tyres are fitted properly to the rim.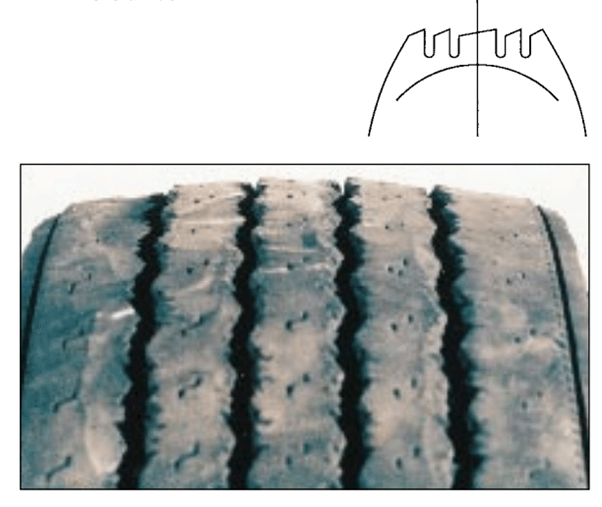 Feathered wear
This is when one side of a tread rib is worn lower than the other side, often due to a combination of improper alignment settings, such as excessive toe and caster. It can be identified by running your hand along the tyre and the tyre feeling smooth one way but rough the other way.
How it happens
Excessive toe (in or out)
Worn bushings
Misalignment
TOE – IN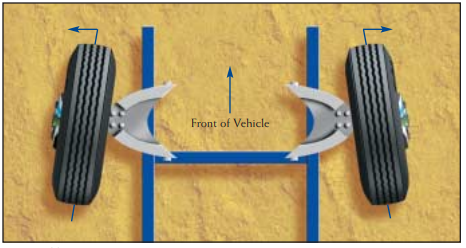 TOE-OUT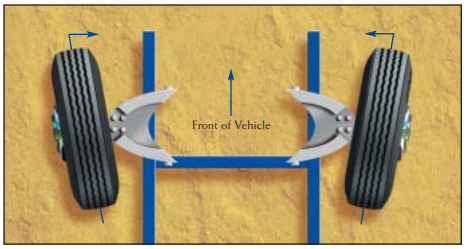 The risks
Your ability to steer the vehicle is compromised and the ability for the type to grip wears away, meaning your truck can easily become unsafe on a straight, during cornering and/or under braking. This is especially concerning if/when the driver must respond swiftly and change course in an emergency.
What to do about it
Alignment should be checked every 10,000 km or 6 months, whichever occurs first, unless you know that you have hit a pothole, or another object, in which case it should be done immediately as a precaution.
One side wear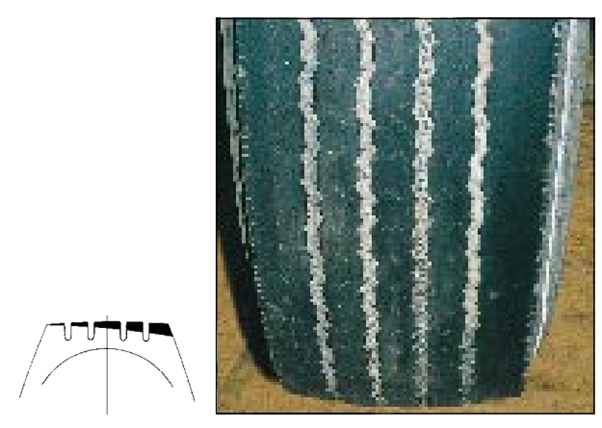 Also known as camber wear, this is when one shoulder or side of the tyre is worn more than the other because it is taking a heavier amount of the load.
How it happens
Incorrect camber settings
Worn joints
Worn k/pin bushes
POSITIVE CAMBER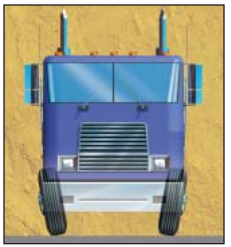 NEGATIVE CAMBER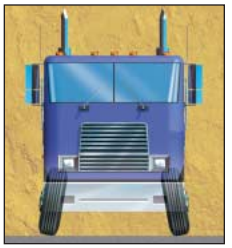 The risks
There is a danger the worn joint may break or pull apart causing loss of steering control.
What to do about it
On high-mileage vehicles, replacing all the joints at the same time is recommended if one or more joints are worn beyond specifications. Ensure regular truck maintenance to ensure vehicle handling, comfort and fuel consumption is optimised.
Scalloping/cupping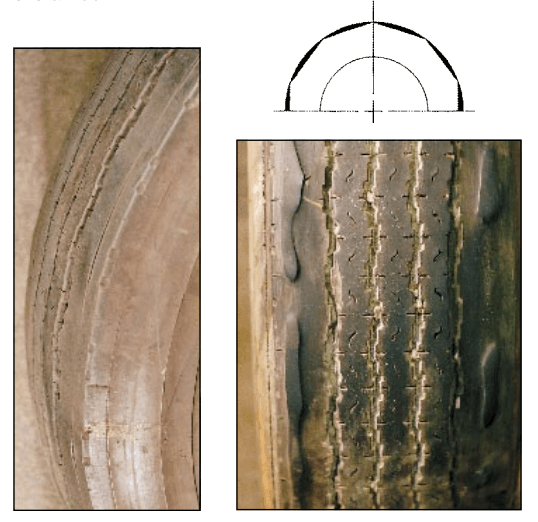 This is erratic dips or depressions appearing around the edge of the tread caused by excessive tyre bouncing or wobbling.
How it happens
Worn or bent suspension parts including faulty shock absorbers
Wheel and tyre out of balance condition
Tyre flat spots (brake lock-up)
The risks
Unbalanced wheels produce a vibration that is uncomfortable to drive in and negatively affects the handling of the vehicle. Placing stress on suspension and steering components can lead to potential crashes and expensive repairs.
What to do about it
Take your truck to a truck workshop for further investigation immediately.
Heel and toe wear-drive tyres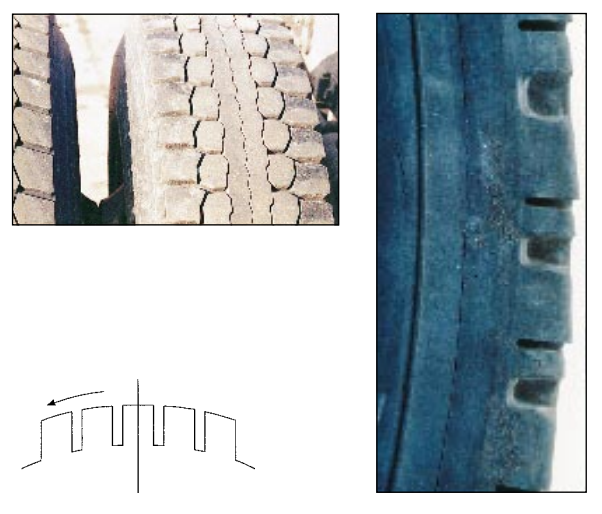 Front edges of tread blocks are higher or lower than rear edges due to tread blocks distorting or not making full contact with the road. It looks like feathering, only the ramps run front-to-back along the tyre rather than side-to-side. The leading edge of the tread blocks will be worn smooth while the trailing edge will be sharp.
How it happens
Mismatched duals
Variance in pressure between duals
Torque stress
Tread/tyre design
The risks
Mismatched duals encourage irregular wear and increases the risk of blowout. Damage incurred through mismatching dual tyres can cost fleets as much as 20% in tread life.
What to do about it
Heel-toe wear is typically a symptom of insufficient tyre rotation and maintenance intervals, so keep up with your truck's maintenance schedule.
Alternative lug wear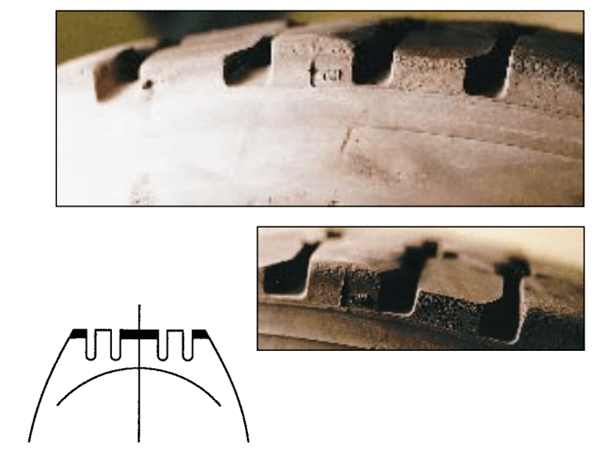 Tyres have inconsistent tread block wear, up and down caused by tyre not making uniform contact with the road.
How it happens
Mismatched duals
Variance in pressure between duals
Poor suspension control
The risks
Driving with worn suspension control and shock absorbers can fatal, with as much as 20% added to your stopping distance and increased risk of skidding on wet roads.
What to do about it
Get your shocks and suspension system checked every 20,000km by a qualified mechanic or when your truck starts to skid a bit more or take longer to brake.
Erosion wear
Circumferential wear along rim edges as a result of slow wear rate of radial tyres on free rolling axles.
How it happens
Very little rubber being shaved
Not maintenance related, simply a function of long-life
Should not be of concern
The risks
None! This is healthy wear and tear of tyres.
What to do about it
Feel good that you don't have a tyre issue.
TIP: It's important to ensure your tyres are cold before you check the tyre pressure.
Keep yourself covered in case you ever have a tyre problem while out on the road. Truck Assist's Roadside Assistance package helps take the pressure off when things go wrong. With a network of suppliers and skilled technicians include the best heavy truck operators in the country, Truck Assist provides national assistance 24/7, 365 days a year.