Truck Tyre Repairs & Replacements
We specialise in truck tyre repairs and replacements to get you back on the road.
Call 1800 827 747 to get a truck tyre repair or replacement now!
No matter where, no matter when, we've got you covered with 24/7 roadside assistance EVEN if you don't have an annual plan.
We understand that sometimes the unexpected happens, which is why we offer 24-hour truck tyre replacement or repair whenever you require. With Australia-wide coverage available for all trucks, we'll dispatch a service provider to replace or repair your damaged truck tyre, meaning you can get back on the road fast.

Starting from $349, someone can be with you ASAP to get you back on the road.
Remember, this product can only be used once per the 12-month period covered by your annual premium. If you require a new truck tyre or repair the cost will be extra. Call us now for our truck tyre prices.
---
You can also be covered year round with Truck Assist's Premium Truck Roadside Assistance or Value Truck Roadside Assistance plans! Available to purchase online whenever you are ready.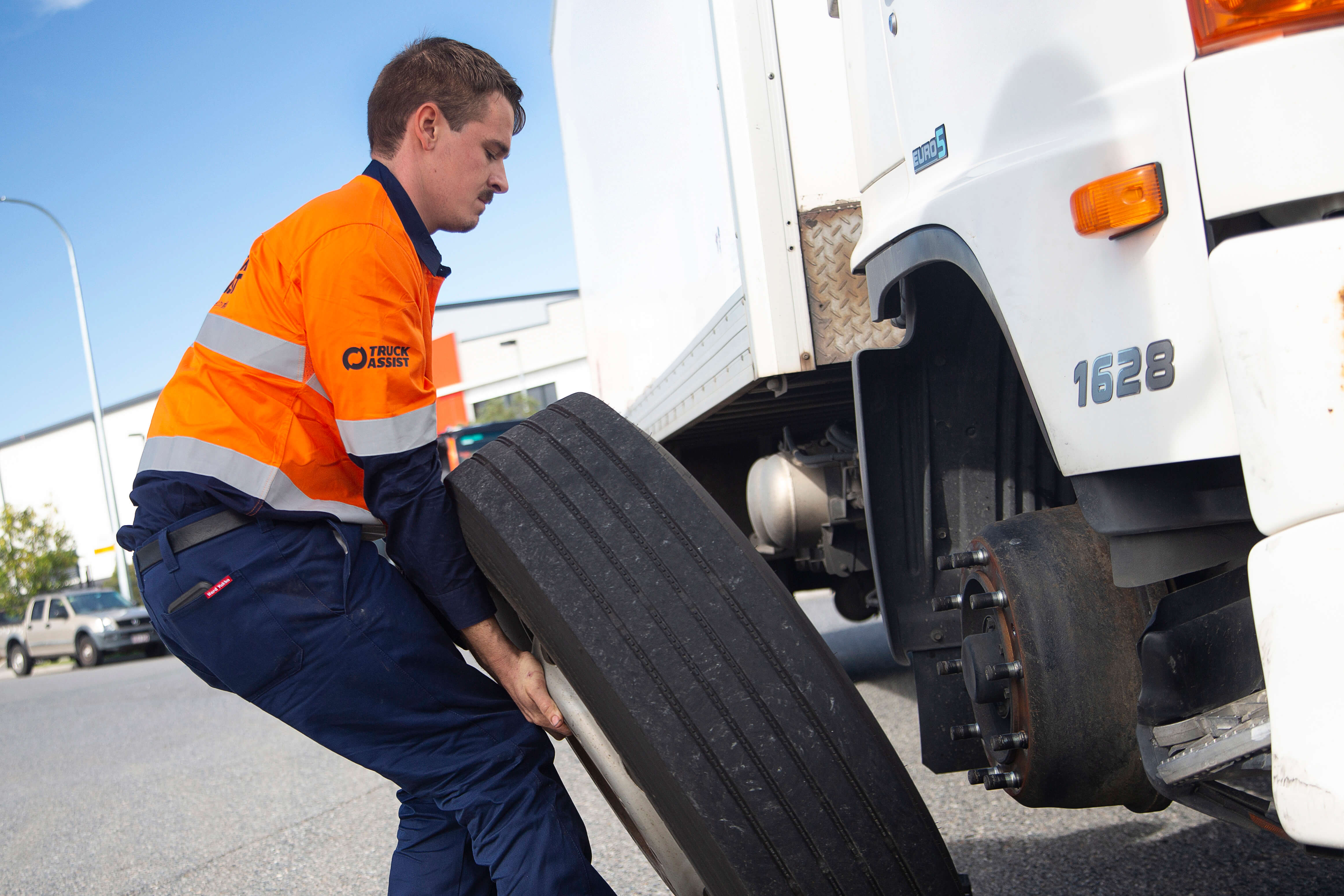 The Process of Truck Assit Roadside Assistance
If you have a breakdown, there are three easy steps to get you back on the road.
1.

Call our Customer Care team
on 1800 827 747, and we
will dispatch assistance near you.

2.

Your truck will be fixed at the
roadside or towed to a repairer,
depending on the severity of the situation.

3.

You get back on the road
with minimal interruption.


Frequently Asked Questions
We aren't going to leave you hanging on the side of the road with no idea how long someone is going to be. Mates don't do that.

It's dependent on a couple of factors: location, time of day, and traffic conditions. We can give you an ETA once we've ascertained the above details and have engaged a service provider. We'll keep you updated of any changes as best we can.

Your truck will be towed to the nearest Truck Assist Service Provider… who just happens to be one of the best across Australia.

It's actually pretty difficult to qualify as a Truck Assist Service Provider – so trust us when we insist on where your truck needs to be towed.

Yes – that's the point!

Truck Assist provides coverage – no matter what, no matter when, utilising a national network of service providers.

You may experience delays in obtaining assistance in remote or sparsely populated areas, but we'll get there!

Got another question? Check out our Frequently Asked Questions or call us on 1800 827 747.